You are here
Human Rights Can't Wait!
UPDATE: Read Migrant Justice's announcement on their agreement with Ben & Jerry's!
Dairy workers kicked off the "Human Rights Can't Wait" speaking tour through the Northeast September 13, engaging hundreds of students and community members. Presentations included a packed house at Columbia Law School, a community dialogue at the MayDay space in Brooklyn, and a full day at Yale University with four events throughout the day coordinated by the Yale Sustainable Food Program.  
Vermont dairy workers like Yaya spoke of the reality of life in Ben & Jerry's supply chain, moving people to action.  She told audiences, "When I first came to Vermont, I worked 12 to 13 hours a day, every day, and earned $300 a week."  
Workers also shared personal hardships about the life and death dangers of work in the dairy industry. Yaya, the cousin of 18 year old Jose Obeth Santiz Cruz who was killed in an horrendous workplace accident in 2009 on a Vermont dairy farm whose preventable death served as the spark to build Migrant Justice, shared the dangers of working with huge animals and how a brutal kick from a cow has left her in pain for years now.  David Diaz spoke of the lack of information and protections against dangerous chemicals and toxic workplace environments, and shared the tragic numbers that show how widespread these problems are: 61 worker deaths on dairy farms in New York alone just from 2006 to 2014.
Migrant Justice members then shared the transformative worker-driven solution behind the Milk with Dignity Program, a model designed to proactively address these workplace dangers through educating and protecting workers to become front line monitors of their own rights. Dairy workers then made the case that Ben & Jerry's can and must respect worker's rights by signing the long awaited Milk with Dignity agreement now and farmworkers rallied the enthusiastic crowds to join them for a national day of action on October 5th!
Students at Columbia, Yale, and Wesleyan, and community members from around New York City, all signed up to take action on October 5th. The second leg of the tour included events at Middlebury College, in Northampton, Massachusetts, at UVM in Burlington, in Providence, Rhode Island, in Boston, East Brunswick, NJ, Washington, DC, and Philadelphia!  Supporters will stand with Vermont dairy workers in telling Ben & Jerry's that we will settle for nothing less than its full and unwavering long-term commitment to the human rights of dairy workers in its supply chain.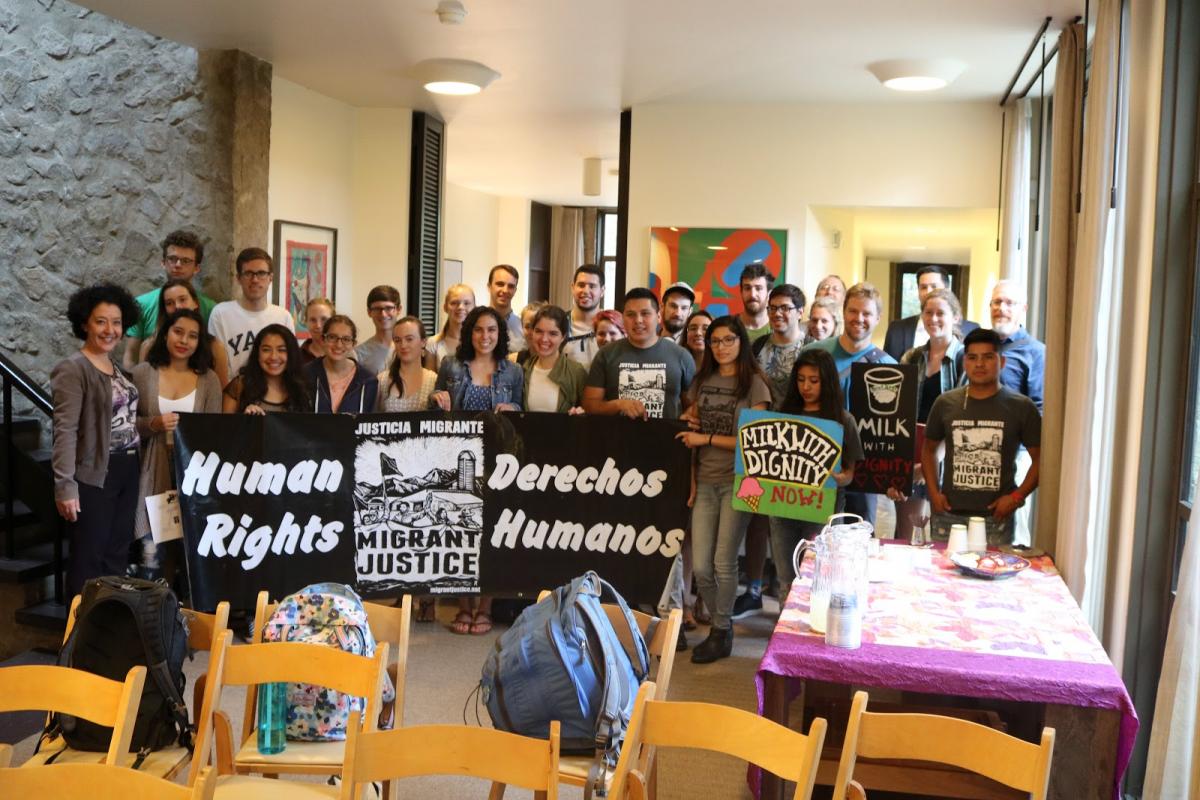 Milk with Dignity National Day of Action - October 5, 2017
Join an action or organize one near you:
Burlington, Vermont. 5pm. Meet at top of Church St, march and rally at Ben & Jerry's.
◦       Join and share on Facebook here.
New Haven, Connecticut. Ben & Jerry's. 
◦       Directions, join and share on Facebook here. 
South Deerfield, Massachusetts. 5pm, Ben & Jerry's.
◦       Directions, join and share on Facebook here.  
Brattleboro, Vermont. 11am. Brattleboro Food Coop.
◦       Directions, join and share on Facebook here.  
Rutland, Vermont. 5pm. Ben & Jerry's in Rutland. 
◦       Directions, join and share on Facebook here.
Click here for an updated list of action locations.
Stay tuned and sign up here as Migrant Justice announces additional action locations and details in the run up to the October 5th "Human Rights Can't Wait" national day of action. Download the October 5th action pack here.
This post was adapted from "Hitting the Road for Milk with Dignity!," originally posted on September 19, 2017 on Migrant Justice's website.